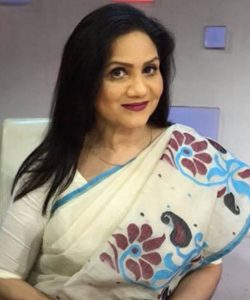 Dr. Saira Khan has received a Ph.D. in Political Science from McGill University, Canada. She has been a Professor of International Relations for more than two decades and has teaching experience in Canada, Europe, West Asia, the US, and South Asia. She has taught International Relations at McGill University, University of British Columbia, The University of Amsterdam, and The American University in Cairo, among others. Before moving to Canada in 1990 as a Commonwealth Scholar, she was a faculty of the International Relations Department of Dhaka University. She has held several visiting faculty positions which include Webster University, Saint Louis, North South University and Independent University of Bangladesh in Dhaka, and The Asian University for Women, Chittagong.
Khan specializes in International Relations in general and International Security, including international crisis, conflict, war, and nuclear proliferation in particular. Her regional specializations include South Asia, the Middle East, and South East Asia. She is the author of several books, including Iran and Nuclear Weapons: Protracted Conflict and Proliferation, (London and New York: Routledge, 2009 hard copy and 2011 paperback), Nuclear Weapons and Conflict Transformation: the Case of India-Pakistan, (London and New York: Routledge, 2008 hard copy and 2010 paperback), Nuclear Proliferation Dynamics in Protracted Conflict Regions: A Comparative Study of South Asia and the Middle East, (Aldershot, Vermont USA, Sydney: Ashgate Publishing Ltd., 2002 hardcover).
Other salient book chapter and article include "Nuclear Weapons and the Prolongation of the India-Pakistan Rivalry," in T.V. Paul, ed., The India-Pakistan Conflict: An Enduring Rivalry, (Cambridge: Cambridge University Press, 2005); "A Nuclear South Asia: Resolving or Protracting the Protracted Conflict?," International Relations, 15(4), 2001. She is currently working on two book manuscripts: A Ripped Iran Nuclear Deal and Tehran's Renewed Nuclear Ambition (expected publication: winter 2020); Cooperation under Protracted Conflict: Comparing India-China and India-Pakistan. Khan has presented papers at many international conferences, International Studies Association and the American Political Science Association. She is an International Security expert of Gerson Lehrman Group, New York.
FOLLOW JGSD VIA EMAIL
Insert your email ID to receive notifications of new JGSD updates of posts from the editors.
Latest Issue