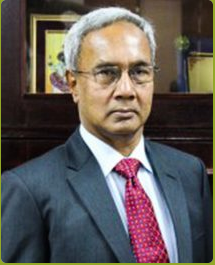 Dr. Salim Rashid is currently University Professor at East West University and is also leading the Centre for Urban Studies and Sustainable Development (CUSSD), an interdisciplinary research center at the East West University (EWU) created to address various urban issues prevalent in Bangladesh. Prior to joining East West University, Dr. Rashid was a Professor of Economics at the University of Illinois, Urbana-Champaign, where he also served as an Associate Head (1989-1996) and Director of Graduate Studies (1992-1996) for the Department of Economics.
He has been a visiting professor at many universities abroad which includes Universiti Utara Malaysia, Indian Institute of Technology, University of the South Pacific and Concordia University. In addition to being an academic, he was an Editor for the Journal of Asia Pacific Economy (Routledge) and was on the International Advisory Board for the Bangladesh Development Studies. He is also affiliated with organizations namely The American Economic Association (AEA) and the Southern Economic Association (SEA).
Dr. Rashid completed his Bachelors of Science in Economics from the London School of Economics (LSE) and then obtained his PhD. From Yale University.His articles have been published in various renowned journals such as Econometrica, Economics Letters, Economica, History of Political Economy to name a few. His research interests are primarily in areas of Mathematical Economics, History of Economic Thought, Development economics and Urban economics.
FOLLOW JGSD VIA EMAIL
Insert your email ID to receive notifications of new JGSD updates of posts from the editors.
Latest Issue