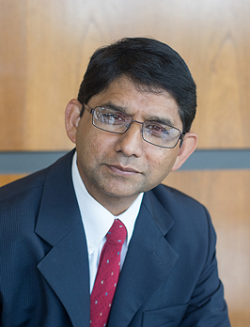 Dr. Akhlaque Haque studies the complex social nature of the human enterprise as it relates to information technology usage in decision-making, social justice, and democracy. He investigates how technology is driving many of our decisions in public policy and administration. He is the author of Surveillance, Transparency, and Democracy: Public Administration in the Information Age. His interest in understanding social inequality and surveillance of population, including public health outcomes, has led series of research studies using Geographic Information System (GIS) technology.
Dr. Haque has published widely in major journals in the field of public administration, urban affairs and public health. Some of his work has won (or nominated) for national awards. Dr. Haque led the MPA Program at UAB as the Director for more than 18 years. He has served in the national commission and executive leadership positions for NASPAA and ASPA. He has participated in Congressional Briefing on GIS and Public Policy in the Capitol Hill, Washington DC. In his capacity as a Fulbright scholar, Dr. Haque regularly leads international training workshops for senior civil servants from Bangladesh. In addition, he has led GIS and Public Health workshops in Sri Lanka and Bangladesh. He is a member of the Bangladesh Development Initiative (BDI), a think-tank dedicated to the development of Bangladesh.
FOLLOW JGSD VIA EMAIL
Insert your email ID to receive notifications of new JGSD updates of posts from the editors.
Latest Issue